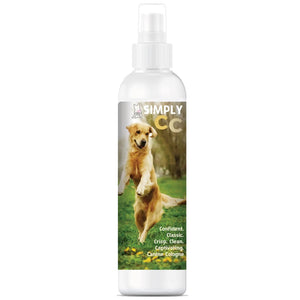 Simply Canine Cologne
Regular price $12.00 Sale
Confident. Classic. Crisp. Captivating. Clean. Simply Canine Cologne
Appropriate for boy or girl dog, day or night, for toy dog or retriever…Simply CC is all about good clean fun. Reminds us of Lavanila or BB&W Lemon Vanilla. 
• Formulated for The Blissful Dog in the USA
• Gently de-tangles coat
• Scent of vanilla and lemon
• Alcohol free
Crafted With: Aqua (water), Cationic Conditioners including Hydrolyzed Silk Protein and Amodimethicone, Glycerin, Botanical Extracts - Rosemarinus Officinalis (Rosemary Extract), Matriciaria Chamomilla (Chamomile), Araleaceae (Ginseng), Rosa Robigiosa (Rose Hips), Salvia Officonalis (Sage), Vitamins (A,D,E), Preservative, Botanical Essence Blend; Vanilla and Lemon.
Made in United States of America